<![endif]--> <![if !vml]>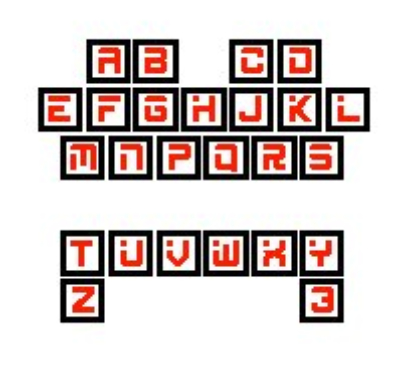 <![endif]>
| | | |
| --- | --- | --- |
| Pin Name (see above) | Pin Name | Function |
| A | FEN | Trouble code output (engine control computer) |
| B | MEN | Switch monitor output (engine control computer) |
| C | TEN | Diagnostic-mode input (engine control computer) |
| D | +B | Switched battery voltage |
| E | GND | Ground |
| F | FAT | Trouble code output (automatic transmission control computer) |
| G | FBS | Trouble code output (anti-lock brakes (ABS) control computer) |
| H | FAC | Trouble code output (air conditioning (A/C)) |
| J | FWS | Trouble code output (Four wheel steering (4WS)) |
| K | FSC | Trouble code output (cruise (speed) control computer) |
| L | - | Not used |
| M | TAT | Diagnostic-mode input (automatic transmission control computer) |
| N | TBS | Diagnostic-mode input (anti-lock brakes (ABS) control computer) |
| P | TAC | Diagnostic-mode input (air conditioning (A/C)) |
| Q | TWS | Diagnostic-mode input (Four wheel steering (4WS)) |
| R | TSC | Diagnostic-mode input (cruise (speed) control computer) |
| S | - | Not used |
| T | FAB | Trouble code output (air-bag diagnostic monitor computer) |
| U | IG- | Igniter coil output (for connection to external tachometer) |
| V | GND | Ground |
| W | TFA | Diagnostic-mode input (Special use only) |
| X | F/P | Fuel pump relay coil (ground to activate fuel pump) |
| Y | TAB | Horn relay |
| Z | - | Not used |
| 3 | - | Not used |
<![if !supportEmptyParas]> <![endif]>
Malfunction codes can be retrieved from the engine, ABS, automatic transmission, Cruise Control, 4WS and air-bag computers by reading the codes flashed by the LED.
Engine Malfunction Codes
Engine codes can be read by connecting the TEN and GND pins, using the jumper wire. (See above for the location of this pin) and The LED connected to B+ and FEN pins. The codes are read by counting the number of flashes given out from the LED. The RED lead goes to the B+ pin
BE CAREFUL CONNECTING THE B+ PIN... this is a live 30A feed
The first series of long flashes (1.2 Secs) are the tens position. There is a short pause (1.6 Secs) and then the second series of quick flashes (0.4 Secs) begins which are the digits. The codes are repeated indefinitely.
Example: ------ ------ (2) -- -- -- (3) is 23 – RH 02 Sensor
A summary of the codes and the reasons:
<![if !supportEmptyParas]> <![endif]>
Code

Affected System or Component

<![if !supportEmptyParas]> <![endif]>

FE

KL

02

NE1 (crankshaft position sensor)

NE2 (crankshaft position sensor 2)

03

G (crankshaft position sensor)

G (crankshaft position sensor 1)

04

<![if !supportEmptyParas]> <![endif]>

NE1 (crankshaft position sensor 1)

05

<![if !supportEmptyParas]> <![endif]>

Knock sensor

06

Vehicle speed sensor

<![if !supportEmptyParas]> <![endif]>

08

Airflow Sensor

Airflow Sensor

09

Water Thermosensor (EGI)

Water Thermosensor (EGI)

10

<![if !supportEmptyParas]> <![endif]>

Intake Air Thermosensor

12

Throttle position sensor

Throttle position sensor

14

BARO sensor (located within ECU)

BARO sensor (located within ECU)

15

Oxygen Sensor

Oxygen Sensor LH

16

<![if !supportEmptyParas]> <![endif]>

EGR Position Sensor

17

Feedback System (02 Sensor)

Feedback System (LH 02 Sensor)

23

<![if !supportEmptyParas]> <![endif]>

Oxygen Sensor RH

24

<![if !supportEmptyParas]> <![endif]>

Feedback System (RH 02 Sensor)

25

Solenoid Valve (Pressure Regulator Control)

Solenoid Valve (Pressure Regulator Control)

26

Solenoid Valve (Purge Control)

Solenoid Valve (Purge Control)

28

Solenoid Valve (EGR Control)

Solenoid Valve (EGR Vacuum)

29

<![if !supportEmptyParas]> <![endif]>

Solenoid Valve (EGR Vent)

34

Solenoid Valve (ISC)

Solenoid Valve (ISC)

41

<![if !supportEmptyParas]> <![endif]>

Solenoid Valve (VRIS1)

46

<![if !supportEmptyParas]> <![endif]>

Solenoid Valve (VRIS2)

67

Electric Cooling Fan Relay (Low temp)

Electric Cooling Fan Relay No1

68

Electric Cooling Fan Relay (High temp (ATX))

<![if !supportEmptyParas]> <![endif]>

69

Water Thermosensor Fan

Water Thermosensor Fan
<![if !supportEmptyParas]> <![endif]>
Automatic Transmission (ATX) Malfunction Codes
Automatic transmission codes can be read by connecting the TAT and GND pins (see above for the location of this pin) and The LED connected to B+ and FAT pins. The codes are read exactly as they are when reading the engine codes. A summary of the codes and the reasons:
| | |
| --- | --- |
| Code | Affected System or Component |
| 01 | NE1 (crankshaft position sensor) |
| 06 | Vehicle speed sensor |
| 12 | Throttle position sensor |
| 14 | BARO sensor (located within PCME) |
| 55 | Vehicle speed pulse generator |
| 56 | ATF thermosensor |
| 57 | Reduce torque signal 1 |
| 58 | Reduce torque signal 2 |
| 59 | Torque reduced/ECT sensor |
| 60 | 1-2 shift solenoid valve |
| 61 | 2-3 shift solenoid valve |
| 62 | 3-4 shift solenoid valve |
| 63 | Converter lock-up solenoid valve |
| 64 | 3-2 timing solenoid valve |
| 65 | Converter lock-up valve |
| 66 | Line pressure solenoid valve |
<![if !supportEmptyParas]> <![endif]>
Anti-Lock Braking System (ABS) Malfunction Codes
Anti-lock braking (ABS) system codes are read when the TBS and GND pins are connected in the Diagnostic connector (see above) and The LED connected to B+ and FBS pins. The codes are read, again, like the engine codes. A summary of codes and the reasons:
| | |
| --- | --- |
| Code | Affected System or Component |
| 11 | Right front wheel speed sensor or rotor |
| 12 | Left front wheel speed sensor or rotor |
| 13 | Right rear wheel speed sensor or rotor |
| 14 | Left rear wheel speed sensor or rotor |
| 15 | Wheel speed sensor |
| 22 | Hydraulic unit harness |
| 51 | Fail-safe relay |
| 53 | Motor or motor relay |
| 61 | ABS control unit |